Stay in our Camping Pods in the beautiful Dartmoor National Park, Devon. Glamping is now at Woodland Springs so come and enjoy the peace and quiet in our Pods. These family-sized pods are a great alternative for 2 adults to Camping. They offer a great place to stay for a restful and peaceful break. You can forget about having to pitch your tent when it's windy or wet, or even sunny, and the taking down of it as well. Come to Woodland Springs and your wooden, insulated tent is ready for you.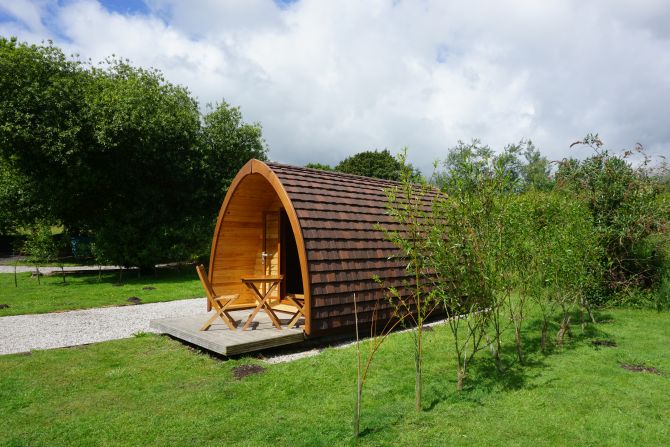 About the Pods
They are fully insulated and suitable for year-round use, they are also carpeted and double glazed. Inside they also have heating and light as well as 2 electric sockets with 2 x 2.5 amp USB ports to charge your phone etc. There is a roller blind for the lockable, double glazed, front door to give you that added bit of privacy. There is a waterproof 13 amp external electrical socket on the outside for your cool box or electric grill. They are built to a very high standard so you can enjoy your holiday in all weathers. All you need is your camping equipment. You can take your dogs into the pods but we do ask people not to cook in the pods.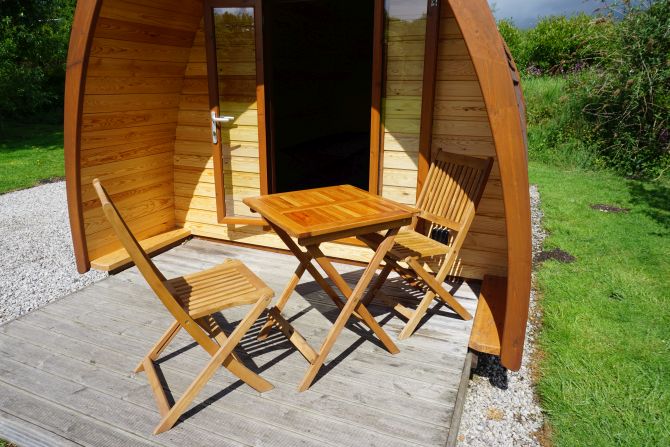 We have a bistro table and 2 chairs for you to use, great to sit out on the decking and watch the world go by. If you fancy a BBQ but didn't bring your own then you can hire one of ours. We also have 2 Outwell Posadas XL Signature single camp beds that are available on request at no charge, they measure 77cms wide, 212cm long and sit 48cm off the floor with a maximum weight they can take of 120Kg.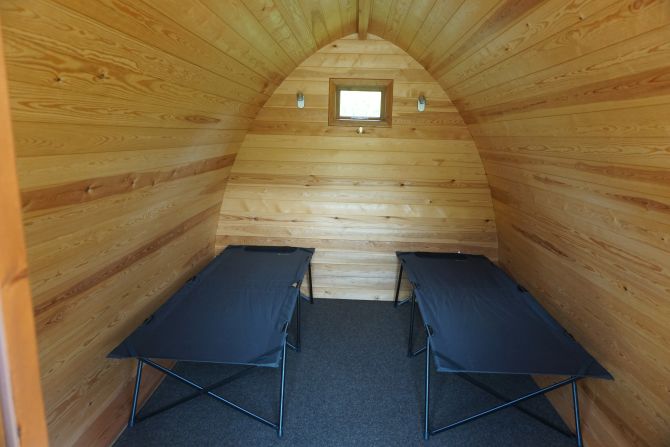 Special Offers
Our Special Offers apply to the Pods as well and you can see the costs on our tariffs page and book a Pod using our Booking Form. if you want to check availability use the Contact Woodland Springs page.
What Do I Need To Bring?
Inflatable mattress, bedroll or other bed if not using our camp beds
Sleeping bag or duvet and pillows
Cooking stove, kettle etc.
Cool box for your milk etc.
Mugs, glasses, crockery and cutlery
Towels and tea towels
Anything else you want
Cooking is not mandatory as you could always eat out as there are many places to eat in the area from some of the finest cooking in the country to good, honest pub and cafe food.
Whats at Woodland Springs?
We have all of the usual campsite facilities with award-winning toilet and shower facilities and ground coffee.  Our small shop and off-licence stock some of the basics to help you get by.
How long can I stay?
You can stay as long as you want but we do have a minimum stay of 2 nights over weekends and 3 nights over Bank Holidays. Shorter stays may be available at short notice if a Pod is not booked out.